Birthday Confetti Card
A fun birthday card, personalized and shipped anywhere in the world for you, that delivers a colorful surprise!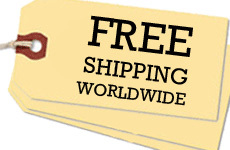 This FUN birthday card is even funkier than ever thanks to fun options and add-ons! Plus, we can mail it anonymously from a mystery address – or you can take credit.
This is birthday fun for everyone! Great for friends, family, adults and kids because you get to customize the message and options. (Messier alternative: Birthday Glitter Bomb Card. Spanish-Language Version.)
Festive birthday confetti is specially loaded into a full-size, premium-quality birthday greeting card so it will pop out when opened for a fun surprise. Confetti comes in various sizes and some of it is similar to glitter, only larger so it's easy to cleanup. Personalized to your specs, 100% printed and made in the USA.
They'll always remember the time they got a confetti card for their birthday.
What makes our Birthday Confetti Card so special?
We send real, full-sized, premium birthday greeting cards!
Each birthday card is personalized to order according to your preferences.
We hand-write your custom message inside the card.
We hand-write the mailing address and return address on the envelope.
Sent anonymously from an unlisted address for extra mystery and surprise – OR you can take credit.
We use a festive mix of birthday themed confetti (balloons, party hats & more)
Confetti actually pops out when opened — this is not just an envelope with loose confetti poured in!
We use colorful US postage stamps on the envelope.
We put eye-catching birthday-themed stickers on the envelope to make it even more personal.
Worldwide shipping is FREE!
This will not be overlooked when it arrives – it will be enthusiastically opened and enjoyed!
$

9.50
Enjoy – Fabulous and Dazzling Birthday Card
This is a fabulous and dazzling birthday card that anyone would love to get. Funky Delivery cards include your custom message hand-written inside, colorful stamps and stickers for that personal touch. Plus we offer fun options you won't find anywhere else, like turning this into a Birthday Confetti Card or Glitter Bomb Card, anonymous mailing, adding prank lottery cards, trading cards and more.
Front
Enjoy
Inside
Have an Amazingly Fabulous and Dazzling Birthday!
Product details
If you're looking for a colorful card for a friend or family member, then this dazzling card is the one for you. Perfect for any age – and especially glamorous for that flashy, trendy person you know. Inside they're inspired to have a dazzling birthday. Want to make it even more fabulous? Upgrade to a Confetti or Glitter Bomb for a birthday surprise they won't be expecting.
Specs
Premium 5″ x 7″, glossy, flat card.
Handwritten Custom Message inside.
Color envelope with handwritten addresses.
Includes birthday themed stickers on envelope.
Includes colorful USPS postage stamp(s).
Card is made and printed in the USA.
Includes FREE Shipping
$

3.50