Because of the way we allow you to customize orders, almost all of our items are just as fun for kids as they are for adults – with a few exceptions. These are some of the pranks that aren't really appropriate for kids. These can be sent anonymously or you can take credit. Prank a friend or frenemy.
Middle Finger Mail
This is it.
Sending someone you know a long-distance bird is seconds away.
A flip off to be remembered.
That's right – give them a middle finger they'll never forget.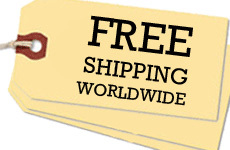 Choose from a regular flip off or an X-ray middle finger.
Simple, satisfying and hilarious!
Fun options include a custom message and glitter.
Full color printout of middle finger or x-ray version
8.5 x 11-inch, premium white paper.
Premium envelope
Hand-written addresses
Anonymous (or not, your choice)
Colorful postage stamp
Optional custom message
Optional glitter
Includes FREE worldwide shipping.
$

4.99
Empty Birthday Gift Card Prank
This is one of the most dastardly birthday pranks evah – you know, in a playful kinda way. We will anonymously send someone you know a birthday card with a BLANK gift card inside.
Let that sink in for a moment. The gift card is BLANK – zero dollars on it. No balance. Empty.
They won't know who sent them the birthday card, which will totally drive them nuts, but you best believe they're going to use that gift card. And when they do, they'll have to fork over their own cash at checkout — or skulk out of the store. Classic.
It's a triple-whammy of frustration for the recipient. First, wondering who sent them a nice card and gift card. Second, finding out the card is empty after spending all that time shopping. Third, realizing they got pranked big-time and have no idea who did it.
Add your own message – or we will hand-write the following inside the card:
I hope you have an amazing birthday! Love, Sarah*
Gift cards will be for popular, widely available retail stores, such as Walmart and Target. If the card does not have a dollar amount printed on it, we will write $25 on it. Gift cards are real and in new condition (they just don't have any funds loaded on them).
What else makes this prank so special:
Each card is custom made to order.
It's actually a premium birthday card.
You can upgrade it to a glitter bomb card if you want.
We hand-write the message in the card.
We hand-write the mailing address and return address
Sent anonymously from one of several U.S. postal addresses.
We use a colorful stamp on the card (for U.S. addresses, international may be metered).
We put a cute birthday sticker on the color envelope for that extra-personal touch. This will not be overlooked as junk mail.
* Why Sarah? It's one of the most popular names. Just about everyone at least knows a Sarah. But you can provide any message or name that you want.
Please note: Birthday card will not exactly match the one shown due to secrecy, but it will be a premium birthday card.
$

9.50