Original Confetti Card
$9.50
A fun greeting card that delivers a colorful surprise! Personalized, decorated and shipped anywhere in the world for you from a mysterious address – or your own.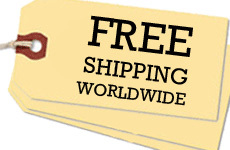 Our Confetti Card card is even funkier than ever thanks to fun options and add-ons. From fake scratch-off lottery tickets and Pokemon cards, to confetti styles that suit your theme, it's cards like this that made us the worldwide leader in anonymous fun.
This is the ORIGINAL confetti card and it's great for friends, family, adults and kids because you get to customize the message and options.
Perfect for all occasions, including birthdays, holidays, celebrations and congratulations – or just as way to say 'thinking of you' to someone. (Messier alternative: Birthday Glitter Bomb Card. Spanish-Language Version.)
Precision die-cut confetti is specially loaded into a full-size, premium-quality birthday greeting card so it will only come out when opened for a fun surprise. Confetti comes in various sizes and some of it is similar to glitter, only larger so it's easy to cleanup. Personalized to your specs, 100% printed and made in the USA.
They'll always remember the time they got a confetti card.
What makes our Confetti Card so special?
Full-sized, premium birthday greeting cards!
Each card is personalized to order according to your preferences.
We hand-write your custom message inside the card.
We hand-write the mailing address and return address on the envelope.
Sent anonymously from an unlisted address for extra mystery and surprise – OR you can take credit.
Choose a style of confetti to match your card's vibe
Confetti doesn't come out until opened — this is not just an envelope with loose confetti poured in!
We use colorful US postage stamps on the envelope.
We decorate the envelope with eye-catching stickers for a more personal look.
Worldwide shipping is FREE!
This will not be overlooked when it arrives – it will be enthusiastically opened and enjoyed!