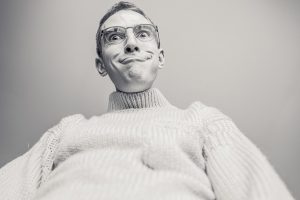 You've got questions, we've got answers.
1. What do you mean by anonymous?
We'll ship the item from one of our unlisted U.S. Post Office Boxes. Your name will not appear on or in the envelope/package unless you include that yourself in a custom message or choose that opton. When it is opened, they will not know who ordered it.
2. Is this for real?
Yes, absofunkylutely.
3. How does this work?
Pick a product you want us to send. Add a custom message, if that option is available. Make sure you include the shipping address for the person you want it to go to. Check out (all payments are via PayPal). You'll get an email confirmation that the order was received and another email when it is shipped out. We ship everything via USPS First-Class Mail and Priority Mail.
4. Can I add a personal note?
Most of our products can include a personal, custom message. We also have a few versions where you can add a card. Custom messages are subject to our terms and conditions (ie: no threats, racist comments or hate speech).
5. I put in the wrong address – what can I do!?!
Contact us asap. If it hasn't been sent, we'll fix it for you. If it has been sent, then you have learned a valuable lesson. Tough love right there, amigo.
6. I'm chickening out! Stop my order!
Contact us asap. If we can stop it, we will.  If we can't, then buck up.
7. Do you ship worldwide?
All of our products ship to the U.S., most ship to Canada and some ship worldwide (like letters and cards).
8. Is this really for real, like really?
See #2 above and don't be so repetitive. 🙂
9. How fast do you ship?
As fast as possible, many times within 1 business day and often the same day if ordered early enough. Everything we do is custom made to order, with great care, so we can not guarantee specific turn around time. Orders that request specific illustrations may take a little longer and holidays may also add additional time. For example, holidays that close USPS or very busy times of year, such as Mother's Day.
10. Can I return an item?
Not at this time. We currently don't offer any items that we consider returnable. All items are sold as-is. If we add any products that we consider returnable, then we'll include that information on the product description page.
11. Do you deliver to PO Boxes?
Yep. Any address the US Postal Service ships to works.
12. Do you provide tracking info?
We only provide tracking info for packages, not for envelopes that are sent via USPS first-class mail. If you want tracking for an envelope item, then choose  that option if available for that product.
13. Can I order multiple products and ship each one to a different address?
Oh, Yeah! When you're checking out, you'll see an option to add shipping addresses. It will read "You may use multiple shipping addresses on this cart" and you'll see a box that reads "Set Addresses" to the right. Click the box and add the appropriate address for each product. Be careful – double check your work kiddo.
14. What is Annoyance Glitter Packaging?
Annoyance Glitter Packaging is our own way of gift-wrapping an item so that colorful glitter and/or confetti will spill out when opened. More detailed explanation: Annoyance Glitter Packaging.
15. Anything to tie the purchase to Funky Delivery?
There is no branding on the outside of items shipped. Some products will include branded information inside, like an insert or flyer. Examples would be potato grams and bricks. Many do not, such as cards and letters. If you do not want to have any branding inside an envelope or package, just let us know when you place your order. Orders are written and meant to look like a regular person did it themselves.
16. Should I send something to someone even though I have a restraining order against me?
Really? C'mon. Our products are intended as gags to be sent to friends and family. If there is a chance that you will get in legal trouble for sending something, then don't. Remember, this is supposed to be fun. Don't use this to send anything threatening or hateful.
17. Do you edit custom messages?
Custom messages are written as submitted when you order. If there is an obvious mistake (like spelling "friend" wrong), then we may correct it so you don't look like an idiot. Otherwise it is verbatim. Again, we do not allow anything threatening, harassing or discriminating. If we have an issue with something you write, we will contact you or simply cancel the order. See our Terms & Conditions about what is appropriate.
18. Are the potatoes edible?

Potatoes are nice and fresh when sent. But they are offered as a novelty, not as an edible food item. That being said, there is nothing wrong with them other than being written on with a AP-certified non–toxic marker (easily peeled).
19. Do you keep my personal information on file?
We do not allow the creation of accounts. All orders are checked out as guests. All order information submitted directly to us (names, addresses) are deleted automatically from our system shortly after orders are completed.
20. Anything else I should know?
Funk yeah! We've got CYA Terms and Conditions. Read them here.
Save
Save
Save
Save