Sale!
Valentines Day Brick in the Mail
This is the Original Valentine's Day Brick!Send someone you know or love a Valentine's Day brick this year! It's a festive, memorable, attention-getting way to let them know you're thinking of them for Valentine's Day.
Friend, brother, girlfriend, sister, boyfriend, parent – whoever. It's an affordable, fun gift that nobody will ever forget!
But what makes it especially fun is that we will include your custom message – writen right on the brick. And yes – this is a real, 4×8-inch brick!
Valentine's Day bricks are nicely gift-wrapped and include a hand-written Valentine note card with your message. Or you can include a premium, full-size Valentine's Day card with your custom message hand-written inside.
All Valentine's Day bricks are packaged in a fun, Valentine's Day way (and we also offer funky options).
Plus – shipping is FREE via USPS Priority Shipping (U.S. destinations or APO).
This year, send a Valentine's Day brick.
Details:
Choice of grey or red brick
Your custom message is written right on the brick with permanent black marker
Choice of Grey Old Town Blend or River Red Brick (4×8-inch Holland Stone Concrete Brick Paver)
Brick is wrapped in Valentine's Day themed wrapping paper.
FREE USPS priority mail shipping.
Colorful, cheery Valentine's Day stickers on outside of the package.
Anonymously mailed – your name will not appear in/out of package unless you want it to.
Optional premium, full-sized Valentine's Day card with your custom message hand-written inside.
Bricks are sent from an unlisted mailing address to make it more mysterious when it arrives. Your name will not appear anywhere in or on the package. You will have to include your name in your message, let the person know it was from you after it is received (you'll have the tracking info), or choose the 'take credit' option.
$

15.99
Sweet Potato Gram
Includes FREE Shipping!
Sweet on someone? Send them a sweet potato gram!
Want to brighten up someone's day? Send a sweet potato gram.
This is a fun twist on our popular Potato Gram and, let's face it, just about everyone loves sweet potatoes. They're the sweet potato of the potato world. Literally.
How it Works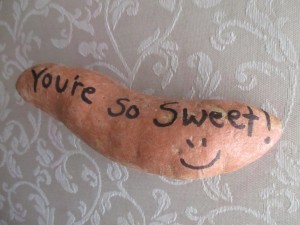 We pick a real, fresh, U.S. grown sweet potato and hand-write your personal message on it.
We wrap it in gift tissue wrap paper and send it, anonymously, anywhere in the U.S. The only way they will know it's from you when they open it is if you include it in your message or card.
Want them to know it's from you right away? No prob, just choose that option below and your address is used as the return address.
Our Sweet Potato Gram is fun and a guaranteed attention getter.  It's the most memorable thing they'll get all year. Seriously, they will never forget getting this in the mail.
Message Suggestions:
I yam so proud of you!
You are so sweet.
You're as sweet as this potato!
This is sweet and so are you.
I yam in luv with you.
I have officially given you a gift…
Happy Thanksgiving
How sweet it is to be loved by you.
I'm sweet on you.
You Got Glitter Yammed!
Sweet Potato! That's a lot of Glitter!
I think you're Yam-tastic.
*Note: This item ships to U.S. Destinations only. Item may contain branding message (ie: small flyer). Let us know if you want this removed.
$

9.99