Valentine's Day Potato Bouquet
How do I love thee? Let me count the ways…
One of the most memorable things someone can get in the mail – and you can be the one to send it for Valentine's Day.
Your personal messages are hand-written on a bunch of beautiful potatoes, colorfully packaged and sent along with a nice card to your sweetheart, friend or family member.
Great as a romantic gift – or just to let someone know you're thinking about them. And yes, both ladies and gents love this!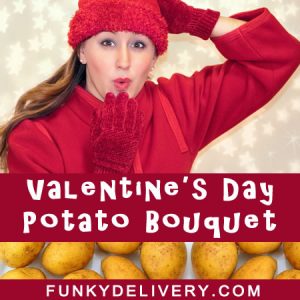 Roses shmozes… send potatoes! How do I love thee? Let me count the ways – one-potato, two-potato, three-potato, more…
You do this and it will be talked about for a long, long time. Way longer than flowers. They'll last longer, too!
How does the Valentine's Day Potato Bouquet work?
We pick out the nicest, freshest U.S. grown potatoes and hand-write your message on each one using a non-toxic marker.
We arrange them and wrap them in Valentine red gift tissue paper.
We include a premium note card (in an envelope) along with your personal message hand-written inside the card.
There are are few extra options to add if you want (like glitter).
We send it FAST via USPS Priority mail (1-3 days) and shipping is FREE. You can also choose a specific mailing date.
It's hilarious, surprising, fun and a guaranteed attention getter. Definitely something to make someone feel special.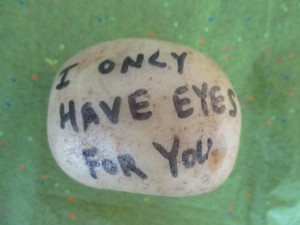 Here are some popular messages to write on each potato:
I love you
U R a spud!
Happy Valentine's Day
Happy V-Day
Luv You :)
You + Me = Happy
Be mine
U R So Cute
XO XO XO
Real Love
Hug Me
Sure Love
Be True
My Girl
Let's Kiss
Too Cute
Let's Dance
Cutie
Raw Vodka
For my Hungry Man
For my Couch Potato
Smash me!
Future Vodka
Note: This item ships to U.S. destinations only via USPS priority mail (1-3 days). Potatoes are fresh when sent. They are offered as a novelty, not as an edible food item. That being said, there is nothing wrong with them other than being written on with a non-toxic marker (easily peeled). Item may include a small flyer/insert inside. Let us know if you would like us to leave it out.
$

19.99
Valentine Happy Glitter Gram
You can now customize any of our Valentine Cards to make the perfect Valentines' Day Glitter Bomb Card!
Just click here to pick a card and choose the options you want. Add your own message, choose glitter type and amount and add fun options. You can also order a happy glitter gram on this page (simple, less options than this one but lots of fun).
---
Sending glitter can be fun for everyone – including the person receiving it. That's right. We've done it. We've created glitter bomb style cards that are fun for everyone.
Send some glamorous excitement to your favorite people, your sweetheart — or someone you're smitten with. Want to bring a laugh to friend or family member's day? Send a Valentine Happy Glitter Gram!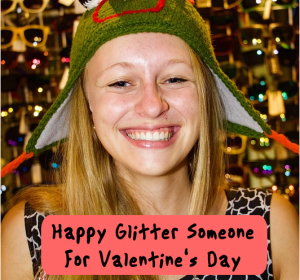 This is a fun surprise for someone you like or love PLUS you get to customize the message.
Just the right amount of colorful, larger-sized glitter (easy cleanup) is specially loaded into a premium Valentine's Day greeting card so it will pop out when the card is opened. A surprising poof of sparkling excitement, accompanied by your custom message. Glitter will be a v-day blend of reds and pinks – and even include heart shaped glitter.
What makes our Valentine Glitter Grams special?
It doesn't create a huge mess – just enough for a nice surprise and a big laugh.
Each Happy Glitter Gram is custom made to order.
Thanks to our special breakaway system, glitter actually poofs out when opened — it's surprising and fun.
We hand-write your personal message, up to 100 characters, inside the card. If you leave the custom message blank, we will write "You Got Glittered for Valentine's Day!" in the card.
We hand-write the mailing address and return address
Sent anonymously from one of several U.S. postal addresses. Your name will not appear inside the card unless it's part of your custom message.
We use a larger type of glitter so it's easy to clean up.
Glitter will be a V-day mix of reds, pinks and hearts.
We use a colorful, romantic stamp (ie: heart or love) on the card (some international mail may be metered).
We put cute Valentine themed stickers on the back of the envelope for that personal touch.
This is not like our original glitter bomb and will not spray an excessive amount of glitter everywhere. If you want to pull that type of prank on a friend, loved-one or frenemy, then try our Original Glitter Bomb or Valentine's Day Glitter Bomb. Note: Cards may not be exactly like the card shown (styles/colors vary).
$

9.50