Valentine Happy Glitter Gram
$9.50
Sending glitter can be fun for everyone – including the person receiving it. That's right. We've done it. We've created a glitter bomb style card that isn't annoying. As a matter of fact, it's downright fun for everyone.
Send some glamorous excitement to your favorite people, your sweetheart — or someone you're smitten with. Want to bring a laugh to friend or family member's day? Send a Valentine Happy Glitter Gram!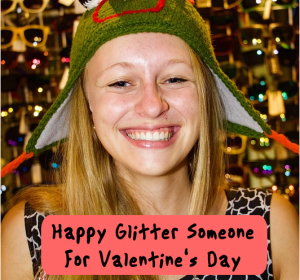 This is a fun surprise for someone you like or love PLUS you get to customize the message.
Just the right amount of colorful, larger-sized glitter (easy cleanup) is specially loaded into a premium Valentine's Day greeting card so it will pop out when the card is opened. A surprising poof of sparkling excitement, accompanied by your custom message.
What makes our Valentine Happy Glitter Gram special?
It doesn't create a huge mess – just enough for a nice surprise and a big laugh.
Each Happy Glitter Gram is custom made to order.
Thanks to our special breakaway system, glitter actually poofs out when opened — it's surprising and fun.
We hand-write your personal message, up to 100 characters, inside the card. If you leave the custom message blank, we will write "Surprise – You've Been Happy Glittered!" in the card.
We hand-write the mailing address and return address
Sent anonymously from one of several U.S. postal addresses. Your name will not appear inside the card unless it's part of your custom message.
We use a larger type of glitter so it's easy to clean up.
We use a colorful, romantic stamp (ie: heart or love) on the card (some international mail may be metered).
We put a cute Valentine themed sticker on the back of the envelope for that personal touch.
This is not like our original glitter bomb and will not blast a huge amount of annoying glitter specs everywhere. If you want to pull that type of prank on a friend or frenemy, then try our Original Glitter Bomb or Valentine's Day Glitter Bomb. Note: Cards may not be exactly like the card shown (styles/colors vary). Item may include branding/website info.
Out of stock