Trick or Treat Jack o Lantern Halloween Card
Send a happy Halloween card to them that features a bunch or smiling jack-o-Lanterns! Funky Delivery Halloween cards include your custom message hand-written inside for that personal touch – plus we offer options you won't find anywhere else. Turn it into a Confetti Card or Halloween Glitter Bomb Card, have us include cool trading cards, fake lottery tickets and more.
Front
Trick
or
Treat
Inside
Wishing you a carefree, colorful, happy and wonderful Halloween!
Product details
A group of smiling Jack-O-Lanterns will greet your friend or family member with a "trick or treat" on the cover of this colorful, fun Halloween card. This is a cute Halloween card to send a friend or family member – and children will enjoy it too.
Add an extra surprise by turning it into a Confetti Card or one of our world-renowned Halloween glitter bomb cards (messier than confetti). Halloween themed confetti or glitter will pop out of card when opened for a fun burst of color — boo! You can also include fake lottery tickets, trading cards, Pokemon cards and other things to make them smile.
Specs
Premium 5″ x 7″, glossy, flat card.
Handwritten Custom Message inside.
Envelope with handwritten addresses.
Includes fun, colorful Halloween stickers on the envelope.
Includes colorful USPS postage stamp(s).
Card is 100% made and printed in the USA.
Includes FREE worldwide Shipping
$

3.50
Dick Confetti Bomb Card
Our Dick Confetti Bomb provides epic, raunchy fun. Glittery penis-shaped confetti pops out of a fun card when opened to reveal your custom message hand-written inside.
Multiple card types with fun options to choose from, personalized style and fast, free worldwide shipping. Simply the best.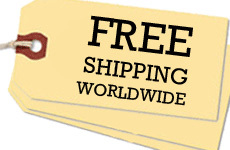 If you're looking for a surprising, memorable card, then this is it. Great for birthdays, bachelorette parties, co-workers – you name it!
Thanks to our ingenious breakaway compartment, colorful dick-shaped confetti actually pops out when opened.
Poof! A colorful splash of dicks pops out all over the place.
Don't be fooled by imitators! This is the real deal. The best Dick Confetti Bomb Card out there – and it's delivered in a premium quality, full-sized card.
Fun options
Custom made to order.
Penis shaped Confetti pops out when opened.
We hand-write your personal message inside the card.
We hand-write the mailing address and return address
Sent anonymously from an unlisted U.S. postal address. We do not include your name or ours inside the card.
You choose the colors and types used
Colorful U.S. postage stamp(s) on the envelope.
Colorful stickers on the envelope to make it look more personal. This will be enthusiastically opened!
Free worldwide shipping.
Note: We also offer other Glitter Bomb Cards and Letters. For the sake of secrecy, cards may not be exactly like the cards shown (styles/colors vary). This is intended for adults only.
$

9.50
Enjoy – Fabulous and Dazzling Birthday Card
This is a fabulous and dazzling birthday card that anyone would love to get. Funky Delivery cards include your custom message hand-written inside, colorful stamps and stickers for that personal touch. Plus we offer fun options you won't find anywhere else, like turning this into a Birthday Confetti Card or Glitter Bomb Card, anonymous mailing, adding prank lottery cards, trading cards and more.
Front
Enjoy
Inside
Have an Amazingly Fabulous and Dazzling Birthday!
Product details
If you're looking for a colorful card for a friend or family member, then this dazzling card is the one for you. Perfect for any age – and especially glamorous for that flashy, trendy person you know. Inside they're inspired to have a dazzling birthday. Want to make it even more fabulous? Upgrade to a Confetti or Glitter Bomb for a birthday surprise they won't be expecting.
Specs
Premium 5″ x 7″, glossy, flat card.
Handwritten Custom Message inside.
Color envelope with handwritten addresses.
Includes birthday themed stickers on envelope.
Includes colorful USPS postage stamp(s).
Card is made and printed in the USA.
Includes FREE Shipping
$

3.50