Christmas Card from Santa – North Pole Glitter Bomb
$15.95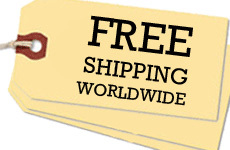 When it comes to sending a special Christmas card, it really doesn't get more magical than this.
This is the one and only Christmas Glitter Bomb Card from Santa – sent from the North Pole!
That's right – this will arrive with an official United States postmark from the North Pole and a return address from Santa.
Plus, it includes YOUR custom message hand-written inside.
Wonderful fun for anyone – friends, family and kids.
Santa's Glitter Bomb Card features a hand-written card, festive decorations and lots of good cheer. It works great for anyone because you get to customize the message, card style and glitter amount.
Thanks to our ingenious breakaway compartment, festive glitter and confetti is specially loaded into a premium, full-size Christmas greeting card so it will pop out when opened. This is not just an envelope with glitter poured into it. Glitter only comes out when the card is opened.
Surprise! A Christmas-colored cloud of sparkly glitter pops out all over the place, complete with fun shapes (Christmas trees, etc). They may be finding glittery remnants for days and weeks. A reminder of the time they got glittered by someone with big-time Christmas spirit. And since it's postmarked from the North Pole, it just might be from Santa Claus himself.
What makes this card so special?
Each card is custom made to order by elves*.
Special breakaway compartment so glitter pops out when opened.
We hand-write your personal message inside the Christmas card.
If you leave the custom message blank, we will write "You Got Glittered by Santa!" inside the card.
We hand-write the envelope
The return address really is the North Pole
It is postmarked by the US Post Office as the North Pole.
We use a festive mix of Christmas glitter and confetti.
Colorful, Christmas-themed U.S. postage stamp(s) on the card.
We decorate each envelope with Christmas stickers to make it look even more spectacular. This will be enthusiastically opened!
Right now, shipping is free to anywhere in the world!
Note: * Cards are not really made by elves, but they are made in the USA and custom-made to order.
Out of stock