Fake Lottery Ticket Birthday Card
$5.49
This is hilarious for someone's birthday!
It's great for friends and family members – even kids.
We will send a nice birthday card with your personal message along with a realistic, fake scratch off lottery ticket inside.
Your message is hand-written inside the card and the scratch off lottery ticket will be for a prize amount between $5000 and $50,000, depending on the ticket.
When they scratch off the ticket, they will be a BIG winner!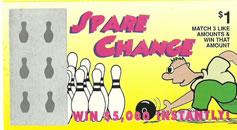 After they're done running all around screaming about how they just won, or calling everyone they know to tell them about their huge win, they'll finally take a moment to read the fine print on the back of the ticket. That's when they'll find out that they were duped – and get a big laugh out of it.
Why should you get this?
It is fun, funny and personal.
We're actually sending a nice birthday card.
We hand-write your message in the card for that personal touch.
We hand-write the mailing address and return address
It can be sent from one of our unlisted U.S. postal addresses or we can use your return address (you choose that option). We will not include our name anywhere in/on the card.
We use a colorful stamp on the card (for U.S. addresses, international may be metered).
We put a festive birthday sticker on the back of the envelope for that extra-personal touch. This will be enthusiastically opened.
Please note: Birthday card may not exactly match the one shown (colors/styles vary). Just to be clear, these are fake scratch-off tickets and there is no actual prize to win.
In stock