Saint Patrick's Day Glitter Bomb Card
$9.50
Celebrate Saint Patrick's Day by delivering an exciting blast of green and gold glitter and/or confetti to someone you know.
This special Saint Patrick's Day version of our world famous Original Glitter Bomb Card is only available for a limited time, while supplies last. You can order now and choose immediate or delayed shipping (so it arrives closer to March 17th).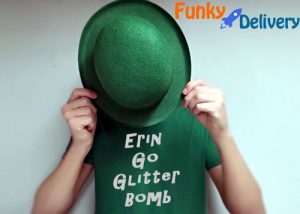 This is a FUN card for St. Patrick's Day – and it's great for anyone because you get to customize the message and add fun options.
How does it work?
Thanks to our ingenious breakaway compartment, a mix of green and gold glitter and confetti – plus shamrock-shaped confetti –  is specially loaded into a festive, full-sized (5×7), premium Saint Patrick's Day greeting card so it POPS out when opened – only to reveal your personal message hand-written inside.
Poof! A surprising cloud of sparkly glitter pops out all over the place. What a fun mess! They'll be finding little sparkly specks for days, weeks, maybe longer. A reminder of the day they got glittered in the name of Saint Patrick by someone awesome (you!).
Don't be fooled by imitators. This is not just an envelope or card with glitter poured in. This is the real deal. The original.
What makes our St. Patrick's Day Card so great?
It's actually a nice Saint Patrick's Day card!
Glitter pops out when opened — it's not just an envelope with glitter poured in.
Each card is custom made to order. By Leprechauns*.
We hand-write your personal message inside the card. If you leave the custom message blank, we will write "You Got Glittered for St. Patrick's Day!" inside.
We hand-write the mailing address and return address
Sent anonymously from a mysterious, unlisted U.S. postal address. They won't know who it's from when they open it and your name will not appear anywhere unless you want it to.
Choose glitter or confetti type – including Adult Only Versions.
We use a colorful stamp on the card.
We put fun, colorful St. Patrick's Day themed stickers on the envelope to make it look even more personal. This will be enthusiastically opened!
Worldwide shipping is free!
Do you want to hand-deliver this card? Select that option below and we will send the card directly to YOU inside another envelope so you can see it get opened. We will just write Happy St. Patrick's Day on the envelope without any addresses.
Note:  Cards may not be exactly like the cards shown (styles vary to insure secrecy and max surprise). Photo shows green glitter, but we now use a mix of greens and gold. Want something bigger? Send a St. Patrick's Day Potato Bouquet with a Glitter Bomb Card or a St. Patrick's Day Brick.
* We're not really Leprechauns, but these really are custom made to order.
In stock